Losing a loved one is an indescribable pain that leaves us searching for solace in our darkest moments. One way to offer support and show empathy during these times is by crafting a thoughtful sympathy card message. Finding the right words can provide comfort and strength to those who are grieving. In this article, we will explore the art of writing sincere and touching sympathy card messages. From offering condolences for the loss of a mother to providing inspiration in difficult times, we've compiled a comprehensive list of nice things to say in a sympathy card. Let's discover the power of words in healing hearts.
Tips To Write Nice Things to Say in a Sympathy Card
Express Your Condolences: Start your message by expressing your heartfelt condolences. Use kind and gentle words to let the recipient know that you are thinking of them during their difficult time.
Share Happy Memories: If you knew the deceased personally, share a brief, positive memory or anecdote about them. This can help bring a smile to the recipient's face amid the sadness.
Offer Support: Let the grieving person know that you are there for them if they need anything. Offer your support, whether it's a listening ear, assistance with daily tasks, or just a comforting presence.
Acknowledge Their Grief: It's important to acknowledge the depth of their grief. You can say something like, "I know this is an incredibly tough time for you," or "I can't imagine how difficult this must be for you."
End with Warm Wishes: Close your sympathy card with warm wishes or sentiments of healing and comfort. You can say something like, "Sending you love and strength during this challenging time" or "May you find peace and solace in the days ahead."
Best Nice Things to Say in a Sympathy Card
"You are in our thoughts and prayers."
"Sending you love and strength during this difficult time."
"May the memories of [Name] bring you peace."
"Our hearts are heavy with yours."
"Wishing you comfort and healing in the days ahead."
"May you find solace in the embrace of loved ones."
"In loving memory of a wonderful soul."
"Gone but never forgotten."
"Your loss is deeply felt by all who knew [Name]."
"With deepest sympathy and condolences."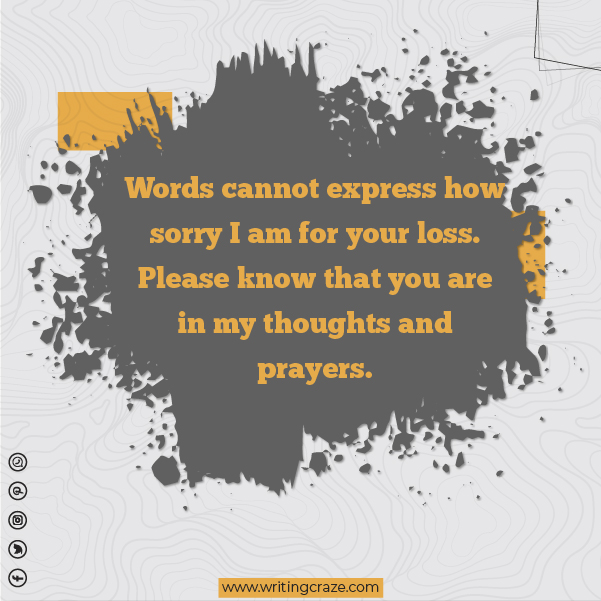 Positive Nice Things to Say in a Sympathy Card
"Celebrating the life of an incredible person."
"Remembering the joy and laughter [Name] brought into our lives."
"Cherishing the moments we shared with [Name]."
"In honor of a life well-lived."
"May [Name]'s spirit continue to inspire us."
"Finding strength in the love we shared."
"Keeping you in our hearts and prayers."
"Reflecting on the beautiful memories we created together."
"With gratitude for the time we had with [Name]."
"Holding onto the light that [Name] brought into the world."
Beautiful Things to Write in a Sympathy Card
"May the beauty of [Name]'s life be a source of comfort."
"In loving memory of a truly beautiful soul."
"Wishing you moments of peace and serenity."
"With heartfelt sympathy and warmest wishes."
"May love surround you during this time of sorrow."
"Honoring the grace and elegance of [Name]."
"May your heart find tranquility in cherished memories."
"In sympathy and with love."
"Keeping you close in thought and prayer."
"May the stars shine a little brighter for [Name]."
Nice Things to Say in a Sympathy Card for Loss of Mother
"Your mother's love will forever illuminate your path."
"In memory of a remarkable mother."
"Sending you comfort and strength as you grieve."
"May you find solace in the legacy of your mother's love."
"With sympathy and understanding in your loss."
"In honor of a mother's endless love."
"Wishing you the embrace of loving memories."
"May your mother's spirit guide and protect you."
"With deepest condolences for your profound loss."
"Keeping you in our thoughts during this challenging time."
Inspiring Nice Things to Say in a Sympathy Card Messages
"Even in the darkest moments, love and memories endure."
"Strength and courage reside within you."
"May you find comfort in the support of those who care."
"In the tapestry of life, [Name]'s legacy remains."
"Your resilience is an inspiration to us all."
"With each dawn, may hope be renewed."
"Love transcends the boundaries of time and space."
"Embracing the journey of healing with you."
"In the face of loss, your spirit shines brightly."
"May the pain of today give birth to a brighter tomorrow."
Creative Nice Things to Say in a Sympathy Card Notes
"Like a candle in the wind, [Name]'s light will forever glow."
"The world is a more beautiful place because of [Name]."
"In the garden of memories, [Name] blooms eternally."
"With every tear shed, a flower of remembrance blossoms."
"Your loved one's love story continues in our hearts."
"May the winds of time carry away your sorrow."
"In the embrace of love, healing begins."
"Life may change, but love endures."
"May your heart find peace in the midst of grief."
"Together, we celebrate a life well-lived."
Best Long Paragraphs About Nice Things to Say in a Sympathy Card
Losing someone dear to us is an indescribable pain, and it's okay to grieve. Your loved one's memory will forever be etched in the hearts of all who knew them. Their legacy of love, kindness, and laughter lives on in the stories we share and the moments we cherish. In this challenging time, remember that you are not alone. Lean on the support of friends and family, for they are here to share the burden of your grief. The pain may feel overwhelming now, but with time, may you find healing and peace in the warm embrace of memories.
Life can be both beautiful and painfully short, and losing someone we hold dear reminds us of this delicate balance. As you navigate the storm of grief, know that the love and support of those around you can provide an anchor in the tempest. Your loved one's spirit lives on in the laughter, wisdom, and love they shared with the world. In this season of mourning, may you find solace in the knowledge that their memory is a beacon of hope, guiding you through the darkest of nights. Your strength and resilience in the face of loss are truly inspiring, and your loved one would be proud of the grace with which you carry their legacy forward.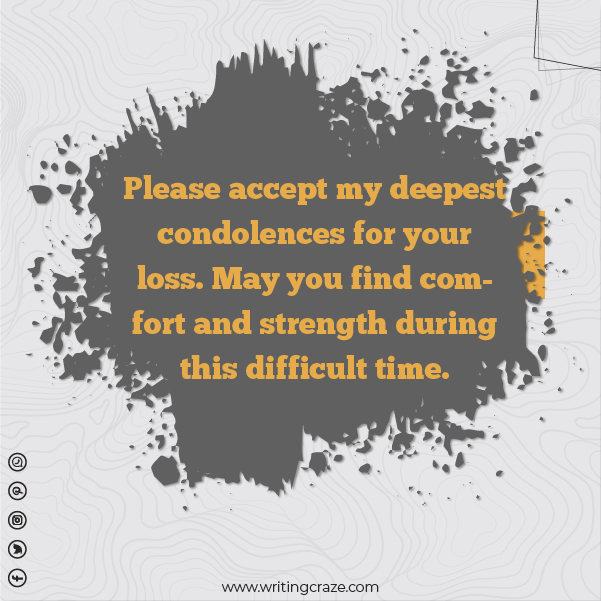 Benefits of Nice Things to Say in a Sympathy Card
Expressing heartfelt sympathy through kind words can offer numerous benefits:
Comfort: Sympathy cards provide a source of comfort to the grieving, reminding them that they are not alone in their sorrow.
Healing: Sharing kind words in a sympathy card can be a part of the healing process for both the sender and the recipient. It fosters a sense of emotional release and connection.
Support: Sympathy cards extend a lifeline of support, letting those in mourning know that friends and family are there to help them through their grief journey.
Memorialization: These messages create a lasting memorial for the departed, ensuring their memory lives on in the hearts and minds of those who cared for them.
Strengthening Bonds: Grief can bring people closer together. Sending a heartfelt message can strengthen existing relationships and build new ones during times of adversity.
Inspiration: Thoughtful words can inspire hope and resilience, encouraging the grieving to move forward with courage and determination.
Legacy: Sympathy cards help preserve the legacy of the departed by highlighting their positive qualities and the impact they had on others.
Conclusion
Crafting a sympathy card message is an act of compassion and empathy. It is a way to extend a helping hand and a shoulder to lean on during one of life's most challenging experiences. The power of nice things said in a sympathy card lies not only in their words but in the emotions they convey. In the midst of sorrow, these words provide a glimmer of light, a reminder that love transcends even the deepest of losses.
As you offer your condolences and share your heartfelt messages, remember that your words have the ability to provide solace, strength, and a sense of unity. Whether you're comforting a friend, consoling a family member, or supporting a colleague, your words can make a profound difference in their healing journey.