Imagine the joy of receiving a heartfelt thank you card that warms your heart and brings a smile to your face. Crafting the perfect message in a thank you card is an art, and it's one of the most genuine ways to express your gratitude. In this article, we're going to explore nice things to say in a thank you card that will make your words unforgettable and your appreciation truly meaningful. Whether you're thanking someone for a gift, their time, or their support, we've got you covered with tips, creative notes, inspiring messages, and more.
Tips To Write Nice Things to Say in a Thank You Card
Be specific: Mention the gift, favor, or act of kindness you're thankful for, and explain why it was meaningful to you. For example, "I really appreciate the beautiful bouquet of flowers you sent; they brightened up my day."
Express your gratitude sincerely: Use warm and genuine language to convey your thanks. Avoid overly formal or generic phrases. Let the person know how much their gesture meant to you.
Share your feelings: Express your emotions and how the kindness made you feel. For instance, "Your generosity touched my heart, and I felt so loved and appreciated."
Mention future connections: Show your interest in maintaining the relationship or staying in touch. This can help strengthen your bond with the person you're thanking. For instance, "I look forward to seeing you soon" or "Let's catch up over coffee sometime!"
Personalize the message: Tailor your thank you note to the individual you're writing to. Include personal anecdotes or memories that relate to your relationship with them, making the message more heartfelt and memorable.
Best Nice Things to Say in a Thank You Card
Your thoughtfulness touched my heart.
I'm so grateful for your generous gesture.
Thank you for being there when I needed you most.
Your kindness means the world to me.
I appreciate your unwavering support.
You've made a significant impact on my life.
I'm blessed to have you in my life.
Your gift brightened my day.
You're a true gem in my life.
Your generosity knows no bounds.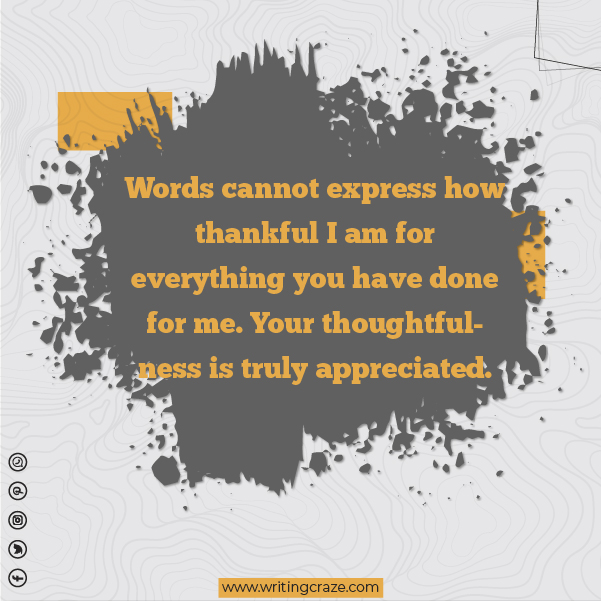 Positive Nice Things to Say in a Thank You Card
Your positivity is contagious.
Your kindness radiates light.
Thank you for always seeing the bright side.
You have an incredible ability to uplift others.
Your optimism is a gift in itself.
Your positive energy is a ray of sunshine.
I'm thankful for your unwavering positivity.
You make the world a better place.
Your smile is infectious.
Thank you for bringing positivity into my life.
What to Say in a Thank You Card for Money
Your financial support is a tremendous help.
I'm grateful for your generous gift.
Your contribution is truly appreciated.
Your kindness has eased my financial burden.
Thank you for your monetary support.
Your generosity has made a difference.
Your gift came at just the right time.
I can't thank you enough for your financial help.
Your monetary gift is a blessing.
Your support means the world to me.
What to Say in a Thank You Card for Wedding
Our hearts are overflowing with gratitude.
Thank you for celebrating our special day.
Your presence made our wedding unforgettable.
We're blessed to have friends like you.
Your wedding gift is cherished.
You added joy to our wedding day.
Your love and support mean everything to us.
Our wedding was complete with you there.
Thank you for sharing our joy.
You made our wedding dreams come true.
Inspiring Nice Things to Say in a Thank You Card Messages
Your determination inspires me daily.
Your resilience is awe-inspiring.
Thank you for being a source of inspiration.
Your strength motivates me to be better.
You are living proof that dreams come true.
Your journey is truly inspiring.
I'm inspired by your kindness.
Thank you for inspiring positivity.
Your passion is contagious.
Your actions inspire others to be their best selves.
Creative Nice Things to Say in a Thank You Card Notes
Your creativity knows no bounds.
Thank you for adding a touch of magic.
Your artistic talent amazes me.
Your innovation is truly inspiring.
You have a gift for making things special.
Your creativity lights up any room.
Thank you for sharing your creative spirit.
Your ideas are pure genius.
Your imagination knows no limits.
You turn ordinary moments into extraordinary memories.
Best Long Paragraphs About Nice Things to Say in a Thank You Card
Your generosity has touched my heart in ways words can't express. The gift you've given me is not just a physical token; it's a symbol of your thoughtfulness and care. You've shown me that kindness still exists in this world and that there are incredible people like you who make it a better place. Whenever I see or use this gift, I'll be reminded of your warmth and generosity, and it will bring a smile to my face. Thank you for being such a remarkable and giving soul. I'm truly blessed to have you in my life.
As I sit down to write this thank you card, my heart is overflowing with gratitude. Our wedding day was a dream come true, and it wouldn't have been the same without you. Your presence added a special kind of magic to the day, and your love and support meant the world to us. The beautiful gift you gave us is a treasure we will cherish forever, but even more precious is the love and friendship you've showered us with. We are so thankful to have you as a part of our lives, and we look forward to sharing many more beautiful moments together in the future.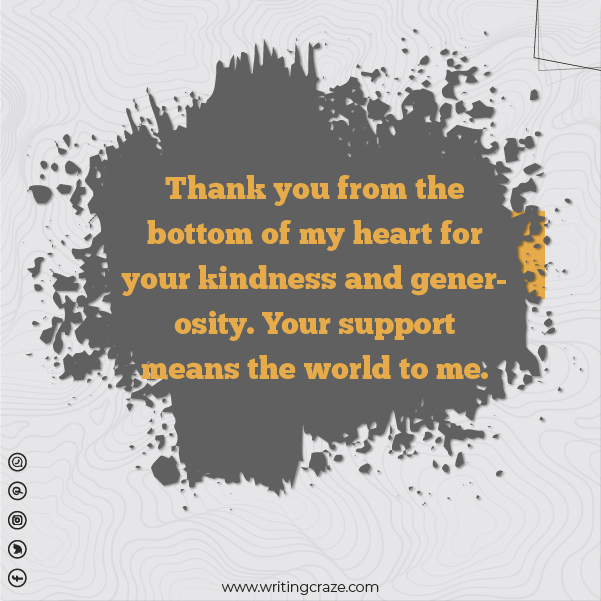 Benefits of Nice Things to Say in a Thank You Card
Express Gratitude: Thank-you cards allow you to sincerely express your appreciation, showing that you value the recipient's actions or kindness. This helps strengthen your relationships and fosters a sense of gratitude.
Positive Impact: Complimenting the recipient in your thank-you card can boost their mood and self-esteem. Your kind words can leave a lasting positive impact, brightening their day.
Strengthen Bonds: Sharing nice sentiments in a thank-you card can deepen the emotional connection between you and the recipient. It demonstrates your thoughtfulness and willingness to go the extra mile to acknowledge their efforts.
Effective Communication: Thoughtful words in a thank-you card can effectively convey your feelings and thoughts. They provide a written record of your appreciation, making it easier for both parties to reflect on the gesture or favor in the future.
Encourage Reciprocity: By expressing gratitude and kindness in a thank-you card, you create an environment of reciprocity. The recipient may be more inclined to help or support you in the future, knowing their efforts are genuinely appreciated.
Conclusion
The power of a heartfelt thank you card should not be underestimated. These 87+ nice things to say in a thank you card provide you with the tools to express your appreciation sincerely and creatively. So, why wait? Grab that pen and start spreading gratitude today. Your words have the potential to make someone's day a little brighter.