In the tapestry of life, there are moments that test our strength and resilience, none more profound than when a child falls ill. It's during these trying times that a simple word of encouragement can cast a ray of hope, providing solace to both the little warrior and their worried loved ones. In this article, we'll delve into the world of uplifting messages, exploring words of encouragement for a sick child meticulously crafted to inspire and comfort sick children and their families. As we journey through these words of warmth, we'll also share insights on how to write your own motivational notes and where and when to use them, creating a treasure trove of comfort for those in need.
Tips To Write Motivational Words of Encouragement for a Sick Child
When crafting words of encouragement for a sick child, remember that your heartfelt message can be a beacon of hope. Here are five tips to help you create words that truly touch the heart:
Personalization: Tailor your message to the child's interests, hobbies, or favorite characters. This personal touch shows you care.
Keep it Simple: Use language that's easy to understand, even for younger children. Clarity is key in conveying your heartfelt sentiments.
Stay Positive: Focus on optimism and strength. Encourage the child to keep fighting and remind them of their courage.
Include Support for Parents: Acknowledge the parents' challenges and offer words of comfort and support for them as well.
Use Imagery: Paint a mental picture with your words. Describe a brighter, healthier future the child can look forward to.
Best Words of Encouragement for a Sick Child
"You are a brave superhero, facing your battles with unwavering strength."
"Every day brings you one step closer to health and happiness."
"Your smile is the best medicine, so keep it shining bright."
"Sending you a big bundle of virtual hugs and healing vibes."
"You're not alone in this journey; we're all here cheering for you."
"In your heart lies the power to heal, and we believe in you."
"Each day is a new page in your story of triumph over illness."
"Your courage inspires everyone around you."
"Even on tough days, remember that the sun will shine again."
"Your strength knows no bounds, and neither does our love for you."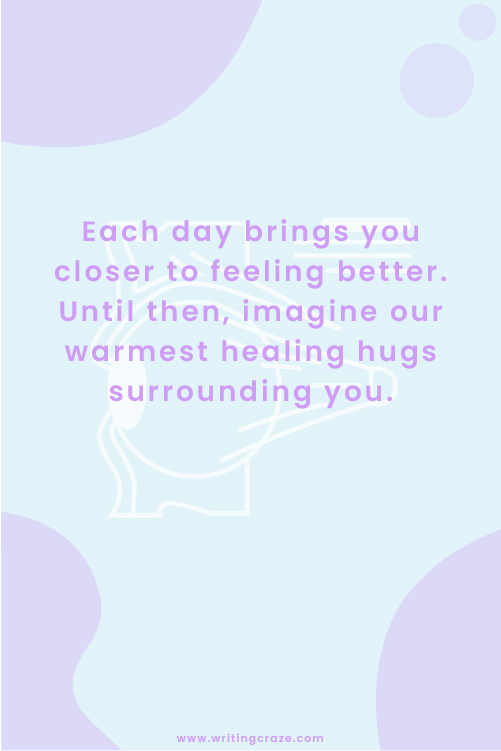 Positive Words of Encouragement for a Sick Child
"Your resilience is truly remarkable."
"The world is a brighter place with your presence."
"Miracles happen, and we're holding onto hope with you."
"Your bravery in the face of adversity is awe-inspiring."
"Every challenge you conquer makes you even stronger."
"You radiate positivity, even on the toughest days."
"Healing is a journey, and you're on the right path."
"Your spirit shines like a beacon in the darkest of times."
"The power of your smile can chase away any storm."
*"You're a true warrior, and we're in awe of your battle."
Short Words of Encouragement for a Sick Child
"Stay strong, little one."
"You're a fighter."
"We're here for you."
"You've got this!"
"Sending love and healing."
"Believe in miracles."
"One day at a time."
"You're not alone."
"Keep smiling."
"Never give up."
Healing Words of Encouragement for Parents of a Sick Child
"Your love and support are invaluable to your child's healing."
"Don't forget to take care of yourself too; you're doing an amazing job."
"Lean on your support network; you don't have to face this alone."
"Your strength as a parent is a source of inspiration to us all."
"Remember that it's okay to have tough days; you're only human."
"In the storm of uncertainty, your love is a constant anchor."
"You're the unsung heroes of this journey."
"Your unwavering dedication is a testament to your love."
"Trust in the medical team and the healing process."
"Keep the flame of hope burning; brighter days are ahead."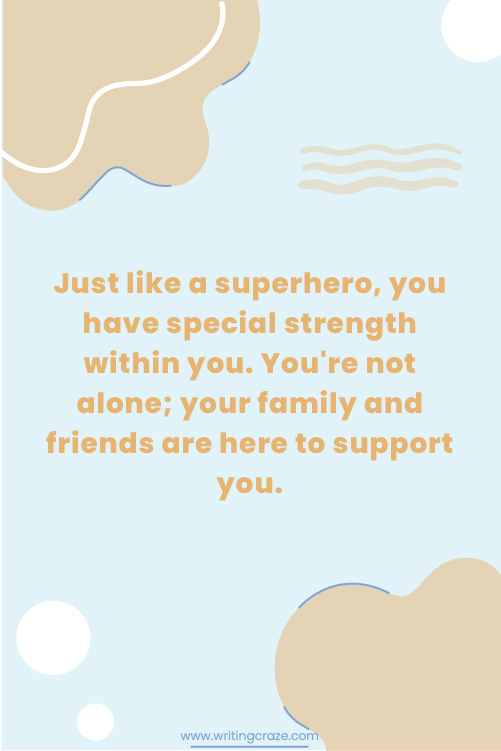 Words of Encouragement for a Friend with a Sick Child
"I'm here to listen and support you, no matter what."
"Sending strength and love to both you and your child."
"You're an incredible parent, and your child is lucky to have you."
"Lean on your friends; we're here to share the burden."
"I admire your resilience and unwavering love for your child."
"Together, we'll get through this challenging time."
"Your child is a warrior, just like their amazing parent."
"We're here to lend a helping hand and a comforting heart."
"Your friendship is a source of strength for me too."
"Even in darkness, your love shines brightly."
Hard Time Words of Encouragement for a Sick Child
"Tough times don't last, but tough kids do."
"Challenges are the stepping stones to your future victories."
"You're not defined by your illness; you're defined by your strength."
"Even in the storm, you're the rainbow."
"Your journey may be difficult, but it's worth every step."
"From adversity, greatness emerges."
"The darkest nights make the brightest stars."
"Your resilience is your superpower."
"You're a champion in the making."
"This chapter is tough, but your story is far from over."
Inspiring Encouraging Words for a Sick Child
"Your dreams are still within reach; don't stop believing."
"Every day is a new chance to amaze us with your strength."
"Your spirit is unbreakable, and your heart is boundless."
"The world is a better place with you in it."
"Your smile can light up even the darkest room."
"Today's struggles are tomorrow's triumphs."
"Your courage is an inspiration to everyone around you."
"You have the power to change the world with your resilience."
"Keep looking forward; the best is yet to come."
"The universe has big plans for you, and we can't wait to see them unfold."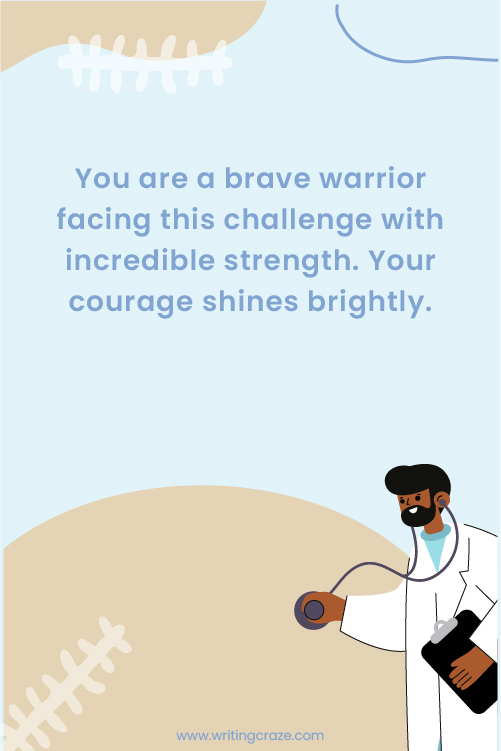 When & Where To Use Words of Encouragement for a Sick Child
Hospital Room: Place encouraging notes or posters in the child's hospital room to provide a constant source of motivation.
Bedtime: Share a few comforting words before bedtime to ease any fears or worries.
Meal Times: Encourage the child to eat and stay strong with uplifting messages on meal trays or lunchboxes.
School: If the child is well enough to attend school, sneak a note of encouragement into their backpack.
Special Occasions: Mark special milestones, like birthdays or treatment milestones, with heartfelt words.
Online Communities: Share your messages of support in online communities or social media groups dedicated to children battling illness.
Family Gatherings: Use family gatherings to reinforce your love and support.
Conclusion
In the tapestry of life's challenges, the strength of a sick child and their loved ones shines brightly. These 77+ words of encouragement are a testament to the power of love, hope, and resilience. Whether you're a parent, a friend, or a well-wisher, remember that your words can be a lifeline during difficult times. Craft your messages with care, share them with love, and watch as they provide comfort and strength to those who need it most.
As you go forth, may you find inspiration in the courage of these young warriors. Together, let us light up the path of healing with our words of encouragement and unwavering support.