Retirement is a remarkable phase of life that marks the culmination of one's professional journey and the beginning of a new adventure. As someone who has dedicated decades to their career, retiring can be both exciting and daunting. It's a time for relaxation, reflection, and rejuvenation. In this article, we will explore heartwarming words of encouragement for a retiree to uplift and inspire retirees as they embark on this incredible journey.
Tips To Write Motivational Words of Encouragement for a Retiree
Personalize Your Message: Tailor your words of encouragement to the retiree's personality and experiences. Highlight their achievements and express your genuine appreciation for their contributions.
Focus on the Future: Encourage retirees to look forward to new opportunities and adventures in retirement. Mention the exciting possibilities that await them, such as travel, hobbies, or spending time with loved ones.
Express Gratitude: Take a moment to express your gratitude for the retiree's hard work and dedication. Acknowledge the positive impact they've had on your life or the organization.
Use Positive Language: Ensure your message radiates positivity. Use words that inspire hope, joy, and enthusiasm for the retiree's future endeavors.
Offer Support: Let the retiree know that you're there for them during this transition. Offer your support, whether it's lending an ear, helping with plans, or simply being a friend.
Best Words of Encouragement for a Retiree
"Congratulations on reaching this incredible milestone! Your dedication has been an inspiration to us all."
"Embrace the freedom of retirement and make every day an adventure."
"May your retirement be filled with laughter, love, and new beginnings."
"Your legacy at work will always be remembered. Now, it's time to create a legacy of joy and fulfillment in your personal life."
"Retirement is not the end; it's the beginning of a new chapter. Enjoy every page!"
"Cheers to the next phase of life! You've earned every moment of relaxation and happiness."
"The world is your oyster now. Explore, dream, and savor the beauty of each day."
"Your journey doesn't end here; it's just taking a different, more exciting path."
"Wishing you endless sunny days and peaceful nights in your retirement."
"Retirement is the reward for a lifetime of hard work. Enjoy the fruits of your labor!"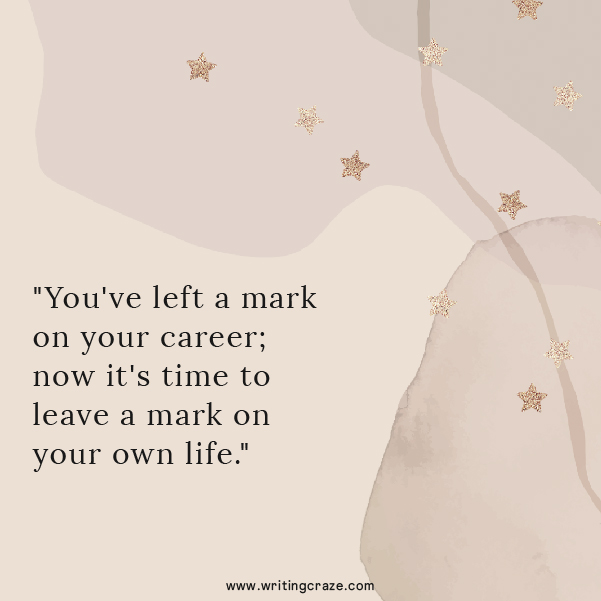 Positive Words of Encouragement for a Retiree
Optimism: "Embrace retirement with optimism and a heart full of joy."
Positivity: "May each day of retirement be filled with positivity and happiness."
Adventure: "Adventure awaits you in this new chapter of life."
Freedom: "Retirement grants you the freedom to do what you love."
Serenity: "Find serenity in the tranquil moments of retirement."
Growth: "Retirement is a time for personal growth and self-discovery."
Gratitude: "Be grateful for the past and hopeful for the future."
Contentment: "May retirement bring you contentment and inner peace."
Reflection: "Take time to reflect on your achievements and aspirations."
Legacy: "Leave a legacy of love, wisdom, and inspiration in retirement."
Short Words of Encouragement for a Retiree
"Enjoy!"
"Relax."
"Celebrate!"
"Cherish."
"Discover."
"Smile."
"Dream."
"Inspire."
"Thrive."
"Love."
Words of Encouragement for a Retiring Teacher
"Your guidance has shaped countless lives. Retirement is a new chapter to write."
"You've educated minds and touched hearts. Now, it's time to nourish your own soul."
"Teaching isn't just a profession; it's a calling. Your legacy lives on in your students."
"Retirement isn't an ending; it's a new beginning to impart your wisdom in different ways."
"You've been the guiding light in so many lives. May your retirement be just as luminous."
"Retirement is the opportunity to explore new lessons in life."
"Thank you for your dedication to education. Enjoy a well-deserved retirement."
"You've sown the seeds of knowledge. Now, watch them bloom in your retirement."
"Retirement is a chance to write a new chapter in the book of your life."
"The world needs more retirees like you—full of knowledge and ready to share."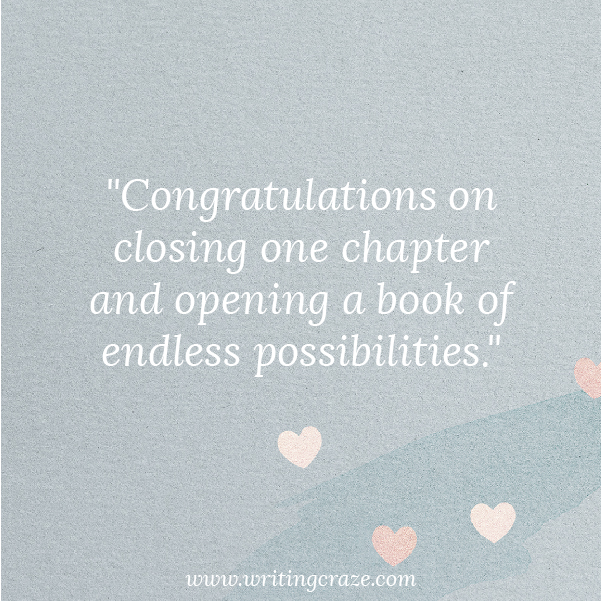 Words of Wisdom for a New Retiree
"In retirement, time is your greatest treasure. Spend it wisely."
"Retirement is a journey; enjoy the scenery along the way."
"Cherish the simple moments, for they often hold the most meaning."
"Retirement is the reward for a lifetime of hard work and perseverance."
"Find purpose in each day, no matter how big or small."
"Stay curious, and let your retirement be a constant exploration."
"Your experiences are your most valuable assets in retirement."
"A fulfilled retirement is built on a foundation of lifelong learning."
"The best retirement plans involve creating memories, not just financial security."
"Retire with no regrets, knowing you've lived life to the fullest."
Hard Time Words of Encouragement for a Retiree
"Even in difficult times, your strength shines through. You've got this."
"Challenges are opportunities in disguise. Embrace them."
"Lean on your resilience; it has brought you through tough times before."
"In the face of adversity, remember your past victories."
"Difficulties are temporary; your spirit is enduring."
"Retirement is a journey with its ups and downs. Keep moving forward."
"You've weathered storms in the past. This too shall pass."
"Hard times may knock on your door, but your inner strength will answer."
"With determination, you can conquer any challenge in retirement."
"The toughest battles often lead to the most beautiful victories."
Inspiring Words of Encouragement for a Retiree
"Your life story is an inspiration. Keep writing the next chapters with passion."
"May your retirement be as extraordinary as the impact you've made."
"Inspire others with your zest for life in retirement."
"The world is a better place because of people like you. Keep shining."
"Your journey continues to inspire those who follow in your footsteps."
"Retirement is the canvas; you are the artist. Paint it with inspiration."
"Let your retirement be a beacon of hope and positivity."
"Your legacy of inspiration will outshine any career achievement."
"In retirement, you inspire us to live life to the fullest "
"The true mark of a retiree's greatness lies in the inspiration they provide to others to embrace life's adventures."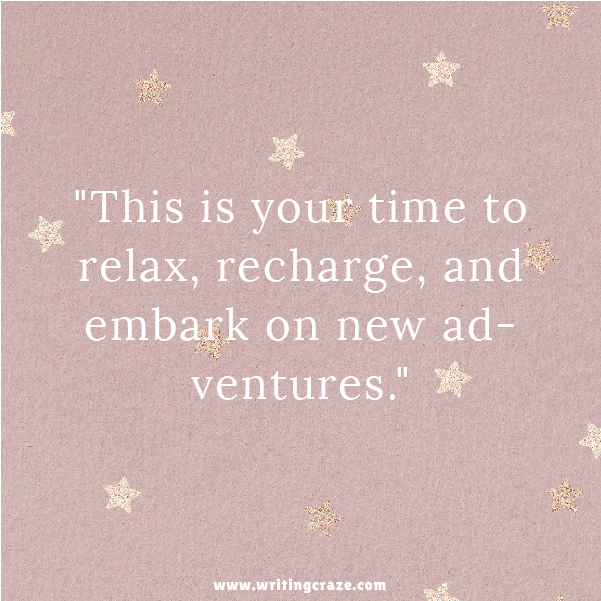 When & Where To Use Words of Encouragement for a Retiree
Retirement Party Speech: Use words of encouragement during a retirement party speech to celebrate the retiree's achievements and inspire them for the future.
Retirement Cards: Include heartfelt words of encouragement in retirement cards to convey your best wishes and support.
Retirement Gifts: Attach motivational messages to retirement gifts, reminding the retiree of your appreciation and excitement for their new journey.
Social Media Posts: Share words of encouragement on social media platforms to celebrate the retiree's accomplishments and inspire others.
Personal Conversations: Offer words of encouragement in one-on-one conversations with the retiree to provide emotional support and motivation.
Retirement Plaques or Awards: Engrave words of encouragement on retirement plaques or awards as a lasting reminder of their achievements.
Retirement Letters: Write a heartfelt retirement letter with words of encouragement to express your appreciation and best wishes.
Retirement Speeches: Deliver motivational retirement speeches at gatherings or events to uplift the retiree and inspire the audience.
Retirement Blogs or Articles: If you're a retiree looking to share your experiences, consider writing a blog or article with words of encouragement to inspire others in a similar phase of life.
Retirement Workshops or Seminars: If you're involved in retirement planning or coaching, use words of encouragement to motivate retirees to make the most of their retirement years.
Conclusion
In conclusion, retirement is not an end but a new beginning, a fresh chapter waiting to be written. The words of encouragement you choose can be the guiding light for retirees as they navigate this exciting journey. From celebrating their achievements to inspiring them to embrace the unknown, your words have the power to fill their retirement with joy, purpose, and fulfillment.
As we bid farewell to the working world, let us remember that retirement is an opportunity to savor life's simple pleasures, pursue passions, and create lasting memories. It's a time to reflect on the past with gratitude and look forward to the future with hope. So, whether you're a colleague, friend, or family member, seize the chance to uplift retirees with your words of encouragement and be a part of their remarkable retirement story.