We all know that our furry companions aren't just pets; they're cherished members of our families. And when it comes to entrusting their care to someone else, finding the right dog sitter becomes paramount. A great dog sitter isn't just a caregiver but a friend who showers your four-legged buddy with love and attention. As a pet parent, expressing your gratitude for their dedication goes beyond a simple thank you. In this comprehensive guide, we'll explore the art of crafting the perfect thank you note to a dog sitter, ensuring your appreciation is conveyed as genuinely as your dog's wagging tail.
As you embark on this journey of gratitude, remember that each thank you note is an opportunity to weave a tale of appreciation. Whether it's a brief note or a heartfelt message, your words have the power to make your dog sitter's day just as they've made your pup's day countless times. Let's dive into the world of thank you notes that celebrate the unsung heroes of pet care.
How To Write a Thank You Note to a Dog Sitter
Expressing your appreciation to a dog sitter doesn't need to be a daunting task. Follow these guidelines to craft a thank you note that's as warm as a puppy cuddle:
Personalization: Start by addressing your dog sitter by their name. This simple touch adds a personal and heartfelt element to your note.
Specificity: Mention specific instances that highlight their exceptional care. Did they take your pup on extra-long walks or remember their favorite treat? Sharing these details shows that you noticed and valued their efforts.
Emotion: Infuse your note with genuine emotions. Whether it's a touch of humor, warmth, or heartfelt sentiment, let your feelings shine through.
Gratitude: Clearly express your gratitude. Let them know how much you appreciate their time, effort, and dedication in looking after your furry friend.
Closing: End with a warm closing. Sign off with your name and perhaps even a paw print (if your dog agrees).
Best Thank You Notes to a Dog Sitter
Tail-Waggingly Wonderful: "Your dedication to making [Dog's Name] feel at home during our absence warmed our hearts. Thank you for being a true friend to our furry family member."
Pawsitively Grateful: "Our heartfelt thanks for ensuring [Dog's Name] felt loved and comfortable. Your exceptional care made our time away worry-free."
Beyond Expectations: "Your commitment to going above and beyond in caring for [Dog's Name] fills us with gratitude. Thank you for being [his/her] second-best friend!"
Leash of Trust: "Trusting someone with [Dog's Name] isn't easy, but you proved to be trustworthy and caring. Your dedication means the world to us."
Fur-Ever in Debt: "A million wet-nosed kisses wouldn't be enough to convey our gratitude for your devotion to [Dog's Name]'s happiness."
Paws for Applause: "Standing ovation for the amazing care you provided to [Dog's Name]. Your love and attention turned our time away into a joyful experience for [him/her]."
Unleashed Appreciation: "Your dedication unleashed a wave of appreciation from both us and [Dog's Name]. Your love for animals shines brightly, and we're thankful to have crossed paths."
Puppy's Cheers: "Even though [Dog's Name] can't speak, [he/she] barks out a big 'thank you' for the wonderful days spent under your care."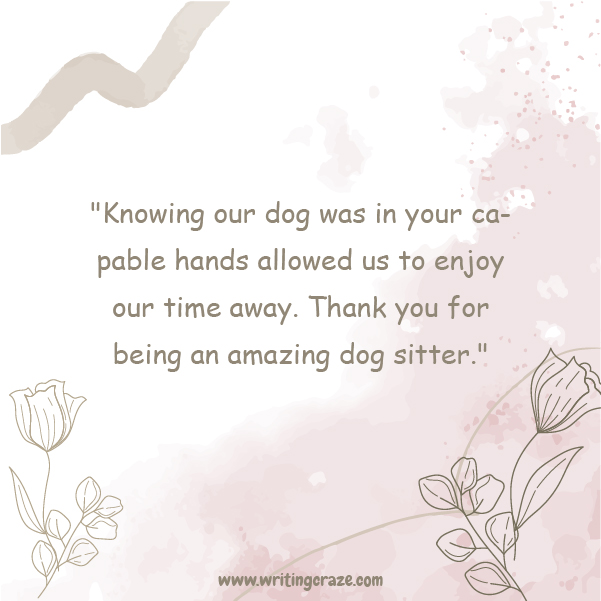 Catchy Thank You Notes to a Dog Sitter Sample
"A round of ap-paws for your exceptional dog-sitting skills!"
"In the dog-eat-dog world, your kindness stands out. Thanks!"
"You're barking up the right tree when it comes to dog care. Thank you!"
"For [Dog's Name], you're nothing short of a belly-rubbing legend."
"Our hearts and [Dog's Name]'s paws are filled with gratitude."
"You've officially earned the title of [Dog's Name]'s second-best friend!"
"If dogs could talk, they'd be howling 'thank you' for your love."
"Behind every happy tail is a dog sitter like you. Cheers!"
"Your dog-sitting magic turned our worries into wagging tails."
"Wagging tails and heartfelt thanks are coming your way!"
Short Thank You Notes to a Dog Sitter Examples
"Big thanks for big love you gave [Dog's Name]!"
"Positively thankful for your care!"
"You made [Dog's Name]'s day, and ours too!"
"Grateful for your paw some dog-sitting skills!"
"Dog joy = Your care. Thank you!"
"Wags and thanks from [Dog's Name]!"
"Our fur baby is all tail wags and smiles!"
"Your care filled [Dog's Name]'s days with joy."
"Slobbery kisses of thanks to you!"
"You're top dog in our hearts. Thanks!"
Thank You Cards for Dog Sitter
Paws and Thanks: Featuring a cute paw print, this card is perfect for conveying your gratitude.
Doggy Delight: A playful card with a wagging tail design to capture the essence of dog care.
Woof You Were Here: Send a postcard-style card with a snapshot of your dog, thanking them for their care.
Puppy Playtime: A card depicting a joyful pup at play, symbolizing the happiness your dog experienced.
Paw some Friend: A card that emphasizes the bond between your dog and the sitter, accompanied by heartfelt thanks.
Tail-Wagging Tribute: A card featuring various dog breeds with a heartfelt message of appreciation inside.
Dog's Greeting: Let your dog "write" the card with a paw print stamp and a charming thank you message.
Puppy Love: A minimalist design card with a simple illustration of a dog and a heart, expressing your gratitude.
Canine Cheers: Raise a "pawse" to your dog sitter's efforts with a card that showcases two paws clinking glasses.
Doggone Thankful: A humorous card with a playful message, perfect for lightening the mood while expressing thanks.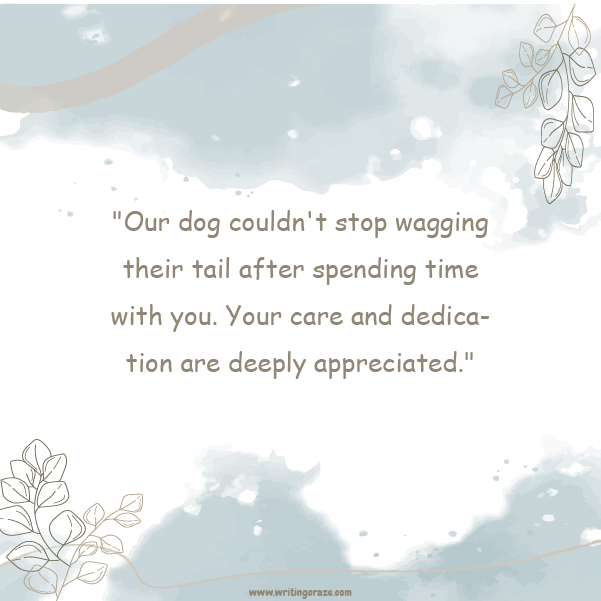 Thank You Messages to Pet Sitter
"Your love transformed pet-sitting into a heartwarming experience. Thank you!"
"For every Fur-tactic Moment: "Every moment you spent with our beloved pet was a fur-tactic moment. Thanks for being amazing!"
"In the world of pet sitters, you're a true gem. Our gratitude knows no bounds."
"Your pet-whispering skills turned ordinary days into extraordinary ones for our furry friend. Many thanks!"
"Thank you for being more than a pet sitter; you're a lifelong friend to our furry family member."
"In a world full of wagging tails, your care stands out as exceptional. Thank you for everything!"
"Our pet's tail wags speak volumes about the love you shared. Your kindness is deeply appreciated."
"You didn't just watch over our pet; you showered [him/her] with care and affection. A heartfelt thank you!"
"With you as [pet's name]'s sitter, our worries melted away. You're truly one of a kind."
"Your dedication to our pet's well-being is evident in every tail wag. Thank you for being remarkable!"
Best Greetings Lines for Thank You Note to a Dog Sitter
"Dear [Sitter's Name],"
"Hello there, dog's best friend!"
"To the one who kept tails wagging,"
"Greetings, paw some caregiver!"
"Hey [Sitter's Name],"
"Dearest friend of fur and whiskers,"
"Warm woofs and hellos!"
"Hello to our pet's happiness curator,"
"For the one who cared endlessly,"
"Greetings from a grateful fur-parent!"
Best Ending Lines for Thank You Note to a Dog Sitter
"With wagging tails and heartfelt thanks,"
"Sending you furry hugs and endless thanks,"
"Here's to you, our pet's hero!"
"Positively grateful,"
"From our hearts to your paws,"
"With love and appreciation,"
"In gratitude for your paw some care,"
"With woofs and wagging tails,"
"Forever thankful for you,"
"Your kindness won't be forgotten."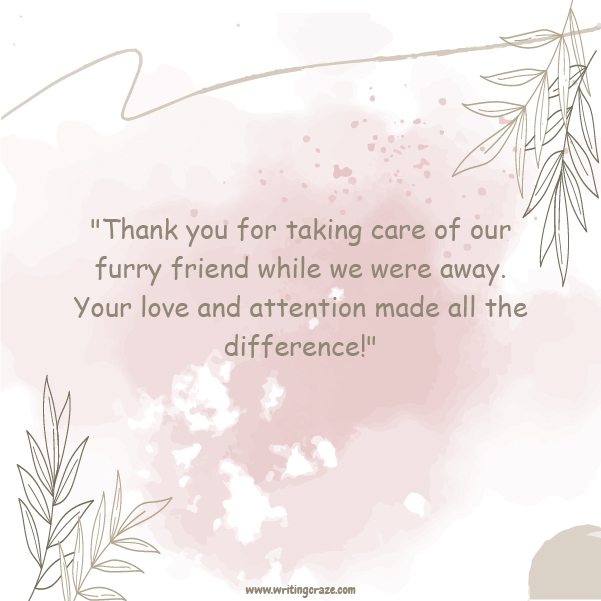 When & Where to Use Thank You Note to a Dog Sitter
After Each Sitting: Whenever your dog sitter cares for your furry friend, it's an opportunity to express your gratitude. A heartfelt thank you note left behind serves as a warm surprise upon their departure.
Special Occasions: Birthdays or holidays provide perfect occasions to show your appreciation. Slip a thank you note alongside a small gift to make their day even brighter.
End of Long Stays: If your dog was in the care of the sitter for an extended period, consider sending a more elaborate thank you note or even a thank you card in the mail.
Social Media Shoutout: In today's digital age, posting a picture of your happy pet with a caption thanking the sitter on social media can spread smiles and gratitude.
Sitter's Day: Surprise your dog sitter on National Dog Sitter Appreciation Day (yes, it's a thing!) with a heartfelt thank you note and a token of your appreciation.
Conclusion
Every tail wag, wet nose nudge, and playful bark from your furry friend speaks volumes about the connection they share with their dog sitter. Crafting the perfect thank you note is your chance to express that bond through words. Whether you choose a heartfelt message, a playful note, or a thoughtful card, your gratitude will undoubtedly shine through.
Remember, your dog sitter isn't just someone who watched over your pet; they're the guardian of joy, comfort, and wagging tails. By following the guidelines, examples, and ideas shared in this guide, you'll be well-equipped to create thank you notes that leave an enduring paw print of appreciation in the hearts of those who care for your beloved canine companions.