In a world where our beloved furry companions are an integral part of our families, veterinarians play a crucial role in ensuring their health and well-being. These unsung heroes dedicate their lives to caring for our pets, often going above and beyond to provide exceptional medical attention and compassion. As pet parents, it's essential that we express our gratitude for their unwavering dedication.
What better way to do so than through thoughtfully crafted thank you notes? In this comprehensive guide, we will explore a myriad of veterinarian thank you note examples that are sure to touch the hearts of those who have cared for our four-legged friends. From heartwarming gestures to succinct expressions of gratitude, let's embark on a journey of appreciation for the paws that heal.
How To Write Veterinarian Thank You Note Examples
Crafting the perfect thank you note for your veterinarian requires a blend of sincerity, appreciation, and personalization. Here's a step-by-step guide to help you pen down your gratitude in the most meaningful way:
Begin with a Warm Greeting: Address the veterinarian by their name and express your appreciation right from the start. A warm greeting sets the tone for your heartfelt note.
Specify the Reason for Gratitude: Mention the specific reason for your gratitude, whether it's for a successful surgery, compassionate care, or going the extra mile to comfort your pet.
Share a Personal Anecdote: Share a brief anecdote about your pet's experience, highlighting the veterinarian's role in the process. Personal stories create a deeper connection.
Express Genuine Appreciation: Use heartfelt words to convey your genuine appreciation. Acknowledge the veterinarian's dedication, expertise, and the positive impact they've had.
Highlight the Pet's Progress: If your pet is recovering well, mention their progress and how the veterinarian's efforts have contributed to their healing.
Offer Best Wishes: Extend your best wishes to the veterinarian and their staff, expressing hopes for a continued successful journey of caring for animals.
Remember, authenticity is key. Tailor each note to reflect your unique relationship with your veterinarian and your pet's individual experience.
Best Veterinarian Thank You Note Examples
The Miracle Worker: "Dr. Smith, your skillful hands and compassionate heart worked miracles for our fur baby. We can't thank you enough for giving us more precious moments with them."
A Lifesaving Angel: "To the amazing team at PetCare Clinic, you're not just veterinarians; you're lifesaving angels who mended our dear Bella and filled our home with joy once again."
Healing Hands, Happy Tails: "Dr. Johnson, your healing hands and dedication to our pet's well-being have given us more wagging tails and furry cuddles. You're our hero!"
Beyond the Call of Duty: "Going above and beyond seems to be your motto. Thank you, Dr. Anderson, for your extraordinary efforts and late-night care that brought our fluffy friend back to health."
Guiding Light in Tough Times: "In the darkest moments of our pet's illness, your guidance and support were a beacon of hope. Thank you for your expertise, empathy, and for being our rock."
Furry Family's Guardian: "To the entire team at Pet Haven Hospital, you've not only treated our pets but also become their guardians. Your dedication and kindness mean the world to us."
Expertise with a Heart: "Dr. Martinez, your expertise coupled with your genuine care is a true blessing. Our pets couldn't be in better hands, and we couldn't be more grateful."
Pawsitively Grateful: "We're pawsitively grateful for your exceptional care and unwavering commitment to keeping our beloved pets healthy and happy. Thank you from the bottom of our hearts."
Whiskers and Gratitude: "Sending whiskers and gratitude your way, Dr. Thompson, for your remarkable talent in understanding our pets' needs and making them feel better."
Fuzzy Friends' Fan Club: "Our furry friends have a fan club, and it starts with you! Your compassion, expertise, and dedication deserve all the praise and gratitude in the world."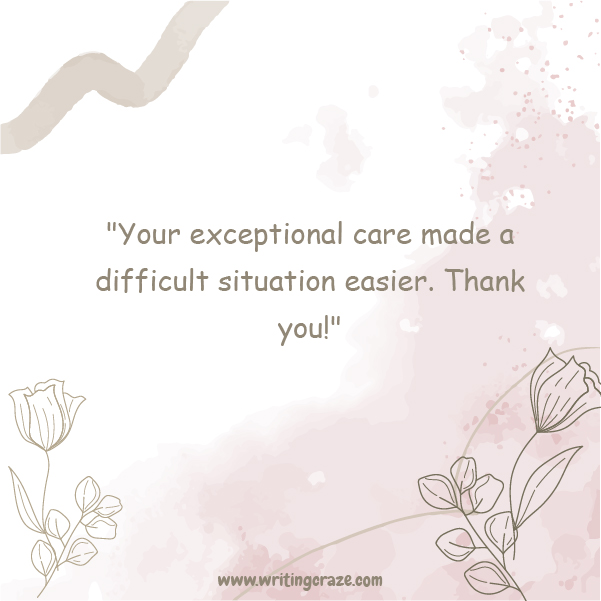 Catchy Veterinarian Thank You Note Examples Sample
Fur-Ever Thankful: "Fur-ever thankful for your care!"
Pawsitively Amazing: "Your care is pawsitively amazing!"
Healing Heroes: "Healing heroes wear stethoscopes."
Tail-Wagging Gratitude: "Our tails wag with gratitude!"
Purr-fectly Thankful: "Purr-fectly thankful for you!"
Veterinary Vanguards: "You're our veterinary vanguards!"
Pet's Best Friend: "Our pet's best friend wears a white coat."
Unleash the Thanks: "Unleashing heartfelt thanks your way!"
Paws & Appreciation: "Paws-ing to show appreciation!"
Caring Touch: "Your caring touch heals and comforts."
Short Veterinarian Thank You Note Examples Examples
Infinite Thanks: "Infinite thanks for your care!"
Grateful Hearts: "Hearts full of gratitude."
Tail-Tales of Thanks: "Tails and tales of thanks."
Warm Whisker Wishes: "Warm whisker wishes for you!"
Pet Love, Vet Love: "Pet love, vet love, always."
Paws Up for You: "Paws up for you, Doc!"
Fur-Mily Thanks: "Fur-mily sends thanks!"
Care Beyond Words: "Care beyond words, thank you."
Hearts & Healing: "Hearts and healing, our thanks."
Beyond Grateful: "Beyond grateful for you."
How Do You Say Thank You to Your Veterinarian
From the Heart: Speak from the heart and let your emotions flow naturally.
Acknowledge Their Efforts: Specifically mention the efforts or actions that made a difference.
Use Personal Details: Incorporate personal details about your pet's experience.
Highlight Impact: Describe how their care positively impacted your pet and your family.
Express Admiration: Express admiration for their skills, dedication, and compassion.
Be Specific: Use specific language to convey your gratitude genuinely.
Share a Memory: Share a memorable moment that highlights their exceptional care.
Send a Photo: Include a photo of your pet with the note for a personal touch.
Mention Staff: Acknowledge the entire veterinary team for their collective efforts.
Offer Future Updates: Let them know you'll keep them updated on your pet's progress.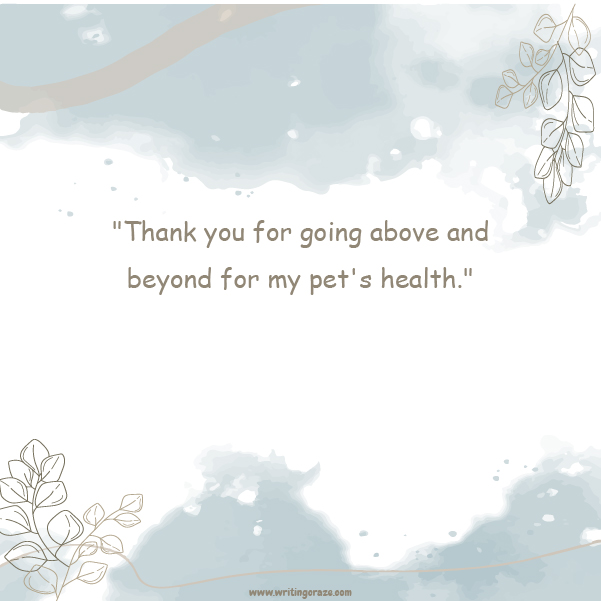 What Do You Write in a Thank You Card for a Vet
Start with Gratitude: Begin by expressing your gratitude for their care and expertise.
Share Pet's Name: Mention your pet's name to personalize the note.
Detail Their Care: Describe the specific care, treatment, or surgery your pet received.
Highlight Positive Outcomes: Mention any positive outcomes, improvements, or milestones achieved.
Express Emotions: Share your emotions about your pet's recovery and the difference their care made.
Use Thoughtful Phrases: Incorporate thoughtful phrases like "forever grateful," "heartfelt thanks," or "you're a blessing."
Share Impact: Explain how their care has positively impacted your pet's life and your own.
Mention Staff: Extend your appreciation to the entire veterinary team for their support.
Future Connection: Express your intention to stay connected and keep them updated.
Warm Closing: End with warm regards, your name, and perhaps a paw print or a pet-related illustration.
Best Greetings Lines For Veterinarian Thank You Note Examples
Dear [Veterinarian's Name],
Hello [Veterinary Clinic Team],
To the amazing team at [Clinic Name],
Greetings to the caring hands of [Dr. Last Name],
A warm hello to the healers at [Veterinary Clinic],
Dearest [Veterinarian's Name],
To our pet's guardian angel, [Dr. First Name],
Heartfelt greetings to the miracle-workers at [Clinic Name],
Hello to the compassionate souls at [Veterinary Practice],
Warmest wishes to the paws behind [Clinic Name],
Best Ending Lines For Veterinarian Thank You Note Examples
With heartfelt thanks and a wagging tail,
Gratefully yours in paw-sitive spirits,
With endless gratitude and purrs,
Forever thankful for your care,
With a chorus of barks and love,
Sending you paws of appreciation,
With admiration and furry hugs,
Warmest regards and whisker kisses,
In deep gratitude and meows,
Yours in pet-loving appreciation,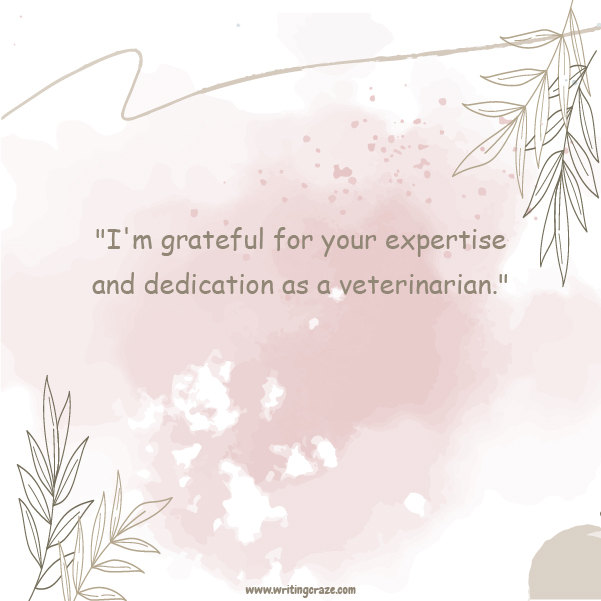 When & Where To Use Veterinarian Thank You Note Examples
Post-Surgery Appreciation: After a successful surgery or medical procedure for your pet, send a note expressing your gratitude for their skilled hands and attentive care.
Wellness Check Gratitude: After routine wellness visits, acknowledge your veterinarian's commitment to your pet's overall health and well-being.
Emergency Care Acknowledgment: If your pet received emergency care, thank the veterinary team for their prompt response and saving your pet's life.
Long-Term Care Appreciation: For ongoing treatments or chronic conditions, express your ongoing gratitude for their dedication and expertise.
End of Life Compassion: During difficult times, such as saying goodbye to a beloved pet, convey your appreciation for their compassionate support.
Pet's Birthday Thank You: Use your pet's birthday as an opportunity to thank the veterinarian for contributing to their health and happiness.
Anniversary of Care: Mark the anniversary of a significant medical event by sending a note to show how their care has made a lasting impact.
Special Occasions: Celebrate special occasions like World Veterinary Day or National Pet Week by sharing your gratitude on social media or in a heartfelt note.
Conclusion
Our pets hold a special place in our hearts, and those who care for them deserve nothing less than our heartfelt appreciation. From the extraordinary surgical skills to the comforting touch during challenging times, veterinarians play a pivotal role in our pets' lives. The power of a well-crafted thank you note should never be underestimated—it's a simple yet profound gesture that can brighten a veterinarian's day and reinforce their passion for animal care.
As we've explored an array of veterinarian thank you note examples, it's clear that each message carries a unique touch of love and gratitude. Whether you choose to convey your thanks with a heartfelt anecdote, a catchy phrase, or a simple expression of sincere thanks, your words will undoubtedly resonate with those who have dedicated their lives to the well-being of animals.
So, the next time you find yourself admiring your pet's wagging tail, soothing purrs, or playful antics, take a moment to reflect on the veterinary heroes who have contributed to these joyful moments. Whether it's National Veterinary Appreciation Day or an ordinary Tuesday, let your gratitude flow freely. Reach for that pen, gather your thoughts, and embark on the delightful journey of crafting a veterinarian thank you note that truly speaks from the heart.